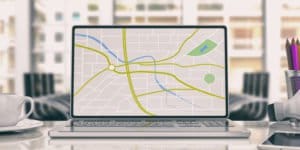 Creating custom maps is one of the most difficult challenges for a modern company. But besides being a challenge, it is also a useful business opportunity in different areas and for a variety of purposes. Creating made-to-measure maps provides you with an advanced tool, one that is built around the real needs of a company, ideal for responding to different needs and contributing to the success of sales and marketing projects, to name just two. Today a custom map has endless applications: supporting GIS systems, creating catchment areas, identifying specific areas of interest, delimitating delivery areas, calculating the shortest route… For a job well done, using Google or Bing Maps is not enough. They can provide a starting point, but the finishing touches and production of content must be carried out by specific programs. In this case, the generic term "programs" refers to state-of-the-art software for geocoding data (or georeferencing). Data and addresses that are entered into this kind of software, are subjected to a series of controls and elaboration processes that precede and improve transposition onto the map. To better understand what we are talking about, let's take a more detailed look at the features offered by our Egon software for creating custom maps and normalising postal addresses.
HOW GEOCODING DATA ONTO MAPS WORKS
The procedure of geocoding data onto a digital map involves several steps. Even if these are carried out simultaneously in relatively short timeframes, they can still be traced back to single actions, separate from each other. The first, in broad terms, involves checking the addresses. They are cleansed of any errors, if present, or confirmed and assigned geographical coordinates. In the event that there are gaps or outdated data, in addition to errors, the software will make the necessary modifications and integrations. And that's not all: Egon is able to enrich the record and therefore increase its value (data quality), offering greater safety in the event of doubts or verifications. At this point – still in the figurative sense – it moves on to transferring the clean addresses onto the virtual map. The substantial difference is therefore in the selection and verification of information carried out automatically by Egon software, thanks to the aid of our database that is updated by our staff, who meticulously evaluate the addresses stored in the archive. The fact that we have access to databases in over 250 countries in the world makes our offer versatile, with everything you need to operate at maximum efficiency in Italy, Germany, France, England, the United States and other countries in Europe and the rest of the world.
FROM THE ASSIGNMENT OF CENSUS TRACTS TO THE IDENTIFICATION OF INTERSECTIONS
Egon software for address validation and the creation of custom maps doesn't just optimise information and ensure superior performance. It is also able to enter the same information in relation to the area in question. It creates a cascade of several additional advanced geocoding options. By way of example, it is worth mentioning the allocation of census tracts, the proximity and immediate calculation of the geodesic and pedestrian walking distances, the reverse geocoding of points of interest, localisation by street names, identification of intersections (angles), and much more … If you have specific needs, it is possible to develop custom commands in order to resolve certain critical issues. Egon software's different modes of use reflect the flexibility of the program. The map can be created in two ways, via the company intranet or via the web, depending on the type of installation chosen (On Premises – In the Cloud). The reference systems include Windows, Linux, Unix, IBMi and Mainframe, while as for applications, Egon can be integrated into existing infrastructures such as IBM, Oracle, Google, Microsoft, SAP and Windows, to mention just a few, in the form of an additional plug-in. If you would like to find out more about Egon software's potential for creating custom maps, you can download the free demo without any obligation: just enter your data and click on Send. If you have any questions, you can contact us via email or telephone and request more information. Why wait?