EUROPEAN AND INTERNATIONAL POSTAL ADDRESS VALIDATION TOOL
Postal address validation is a  fundamental need for any enterprise working with high content databases.
POSTAL ADDRESS VERIFICATION SOFTWARE
The postal address validation process involves analysing and correcting any inaccuracies or inconsistencies in an address or group of addresses (for example a customer/supplier database). The aim is to reduce each single address into an universally intelligible form that can be clearly traced from any IT system. European address validation is our core business, but we provide complete assistance for over 250 countries around the world both through batch address validation and through online services.
Egon software is available for international address verification and has been specifically designed to carry out and automate these operations with precise validation of any incorrect or incomplete addresses. No more problems due to spelling and formatting errors, thanks to the interactive backup of our software with its real-time functions when the operator directly inputs the data (including automatically adding any missing postcodes).
Try out our address validation software now
Address validation involves a set of techniques aimed at verifying, correcting, updating, deduplicating and, where necessary, enriching data archived or stored in a single database or several different databases.
Egon will immediately verify the accuracy of the information you have. The verification checks for grammatical errors (double letters, spacing, etc.), out-of-date records, duplicated data and finally completes the address, which is enriched with any missing information (Post/Zip Code, State, province, country etc.).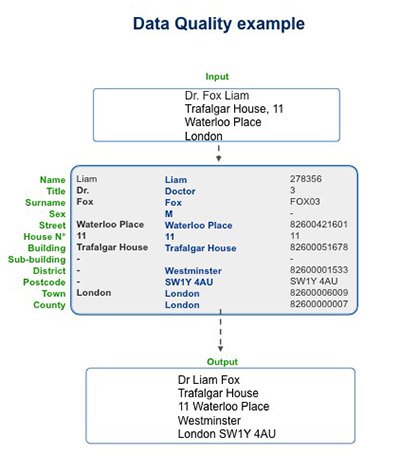 A complex set of rules has been developed for analysis and postal address validation, based on multiple factors, such as blank spaces between the input words, order and other elements, which are related to our thesaurus tables to achieve a perfect output.
Egon can be smoothly integrated into any sort of application (ERP, operational, CRM, etc.) and standard software environments (sap, oracle, windows, etc.), meaning you can immediately boost enterprise operations in all data fields with precision functions that were unheard of until now.
There are numerous application fields for a postal address validation software, ranging from validating a number of single databases, to mailing (classic service for mail order sales), convergence between different databases or migration from old to new systems.
Egon interacts automatically with you during data entry, correcting any errors, validating the addresses and standardising them to the official format.
However, Egon is more besides and has some very useful advanced functions, for example real-time self-enhancement which means that when you have input just a few of the fields in the input form Egon automatically fills in the others, making the entire process much faster and your work much easier.
IF I NEED TO VALIDATE LARGE QUANTITIES OF ADDRESSES AT ONCE?
No problem! Besides its real time functions, Egon also enables the batch validation service: the system takes on board entire databases or different format files (csv, xml, etc.) and analyses and processes them to return them to you completely validated and deduplicated.
EUROPEAN ADDRESS VERIFICATION SOFTWARE TOOL, AND THEN?
The algorithm that Egon software is based on enables operating on personal data as well (examples of personal data validation include tax code, identity documents, etc.), including titles and various types of bank data, returning the output in a universally accepted standard format. Databases for both natural persons and legal entities can be validated.
Egon guarantees excellent database cleaning results, down to manually correcting any records that were rejected by the automatic process.
We are able to guarantee global coverage with our quality services (address verification in Europe and in international countries). Our company has specialised for years in providing services concerning the european address validation, deduplication and data quality, our headquarters are in Italy, in Verona (in the heart of the Veneto region).
DISCOVER HOW OUR DATA QUALITY SOFTWARE TOOL CAN HELP YOUR COMPANY GROW!