The new version of our product website will be available in a few days time at our standard address www.egon.com. We are currently integrating all the social communications functions for our target, aimed at creating a complete and integrated web platform.
WELCOME TO THE NEW EGON.COM PORTAL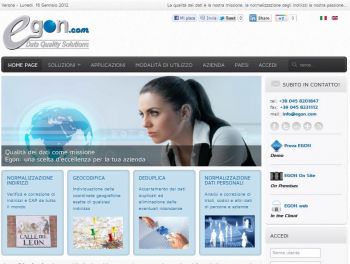 Our main aim is to increase the visibility of our Egon suite software application for data quality, which is already quite well known internationally but not yet dynamic enough on the World Wide Web. Over the next few months the egon.com project will become reality, and we will be able to reach our customers in the most innovative and indispensible methods, especially in software fields and clouding.
The new website has been designed so that it is very clear and user friendly, but with a very modern and refined graphic style. Our homepage lists all the available solutions and the method for using our application. All the forms of contact are clearly visible so that users can directly communicate with our company contacts at any time.
For users who are more accustomed to web 2.0, we have highlighted all the company accounts and social pages in the different platforms. This way you will be kept up to date on all the news about our products and this special field, by reading the messages we send as needed to the various social portals.